Collagen Anti-Aging Supplements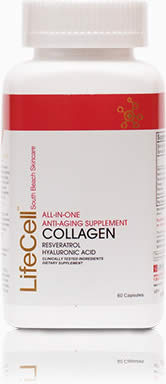 Why your skin needs it:
LifeCell Anti­Aging Supplements give your skincare treatment an added boost by providing essential skin health boosting ingredients.
Product Info
What it is:
Our supplement capsules contain some of the most sought after antioxidants and natural extracts. Resveratrol, Collagen and Hyaluronic acid are ranked amongst some of the best and most effective anti­aging ingredients when it comes to making sure you not only look, but feel young from the inside out.
*These statements have not been evaluated by the Food and Drug Administration. This product is not intended to diagnose, treat, cure or prevent any disease
ONLY AVAILABLE FOR SALE IN THE UNITED STATES.
Collagen
Hydrolyzed Collagen For Youthful Skin in LifeCell
Vitamin C Ester
Ascorbyl Palmitate for Skin Care in LifeCell
Resveratrol
Resveratrol Anti-Aging Benefits in LifeCell
Hyaluronic Acid
Anti Aging Secrets from LifeCell
Vitamin E
Tocopherol Acetate (Vitamin E Acetate) Benefits
Suggested Use:
Take two capsules daily as a dietary supplement.