Discover the revolutionary breakthrough in anti-aging science that is taking skin care in a new direction. Erase the look of fine lines and wrinkles with LifeCell® All-in-One Anti Aging Treatment. Try it for yourself and take years off your skin!
Erase The Look
Of Aging Skin
Where did your wrinkles go?
LifeCell's innovative all-in-one formula is an anti-aging solution that has been clinically proven to reduce the look of your wrinkles and fine lines in
just one quick and easy step.
Almost nobody knows this...
but the human eye cannot see a wrinkle!
What your eye actually sees is the shadow made by the wrinkle. So once natural light is bounced into a wrinkle, its shadow appears almost invisible. LifeCell contains light-reflecting micro-technology. So when you use LifeCell there are virtually no shadows to see.
Everyone Will Notice The Difference
Your new smooth, youthful-looking, baby-soft-skin doesn't wash off once you wash your face. A ground-breaking series of studies have demonstrated the amazing long- term effectiveness of the active ingredients in LifeCell. Most of the research on these independent ingredients has been conducted by Harvard University, Yale University, Cornell University and Oxford University's medical departments.
The genius of this anti-aging formula is it works "synergistically." Which means just as talent can win games, but teamwork and intelligence wins championships. Similarly LifeCell involves the simultaneous action of separate super-powerful anti-wrinkle and anti-aging ingredients which together end up having... a greater total powerful effect.
LifeCell's
formula contains 6 of the most potently effective, (and hypoallergenic), scientifically proven anti-aging ingredients to dramatically revive your youthful appearance, possibly completely erase the appearance of wrinkles, tighten your skin, zap 10 to 15 years off your appearance, mitigate the look of skin discoloration and get you a glowing radiant complexion for life.
click here and receive YOUR 30-DAY TRIAL
We know that protecting your personal information is extremely important to you. LifeCell uses the best and most respected independent companies to monitor and certify that it is safe and secure for you to provide your personal information.
It works amazingly
well because it's loaded with antioxidants, water- binding agents, and anti- irritants. A groundbreaking series of independent, published studies have proven
without a doubt that these anti-aging ingredients are extremely beneficial to reduce the tell-tale signs of aging on our skin.
TOP

CELEBRITIES

ARE FANS OF LIFECELL
John Schneider
Melora Hardin
Paula Abdul
Joey Fatone
Kevin Sorbo
Christina Milian
Chazz Palminteri
Jennifer Taylor
Alex Skarsgård


- "This is magic. I will absolutely use it."
- "Wow! This is Great."
- "Wow! It works...What a concept."
- "This is amazing. Wow!"
- "Wow LifeCell Really Works."
- "This is amazing. I want one for my mother too."
- "This really works. My lines are smoother. I'll have my wife use it too."
- "Wow! What happened? It's great."
- "WoW"


Jessica Chastain
- "I'll use it everyday"
Nobel prize winning medicine
regarding Nitric Oxide
In 1998 three Nobel Prize winning scientists (Robert Furchgott, Louis Ignarro and Ferid Murad) discovered a groundbreaking compound called Nitric Oxide. Nitric Oxide dilates our capillaries and increases healthy blood circulation to our skin. The enhanced circulation helps bring with it a flood of nutrients saturating our malnourished skin...with new life. Our face ends up regaining its bright youthful glow!
But Nitric Oxide cannot be given directly to our skin since it is a gas. Instead, it has to be produced on the surface of our skin through a naturally produced compound in our bodies called Dithiolane-3-Pentanoic Acid. D3PA levels decrease as we age. However, a highconcentration of D3PA is included in anti-aging LifeCell. In clinical research conducted by a doctor from Yale University's Medical School, on D3PA's effects...his patients noticed a "healthy glow" within five days of application. This is expected given D3PA's ability to help produce Nitric Oxide.
LEADING DERMATOLOGIST RECOMMENDS
LIFECELL
My name is Janet Allenby, I am a dermatologist who has been practicing for many... many years.
I am excited to report to you that now many expensive Cosmetic Injections sessions and cosmetic surgeries can be either postponed or eliminated completely because of a brand new cosmeceutical that can postpone or even prevent the need for these invasive procedures in the first place.
Hard to believe? Of course, it is. I wouldn't believe it myself, if I hadn't seen it with my own eyes.
In all my many years of experience, I have never come across a product quite like this. It is called LifeCell — an all-natural approach to preventing the signs of aging by putting nature's most powerful nutrients to work for your skin.
In many cases this unique product can not only postpone,
it can even eliminate the need for Cosmetic Injections or cosmetic surgery for many individuals whose
only complaint is the appearance lines, wrinkles, sagging skin, age-spots, under-eye dark circles & puffiness and "feather" lips
that adds years to their face.
Like me, many other cosmetic surgeons and dermatologists recommend LifeCell to our patients. So please, before you come to see me or any other cosmetic surgeon, try this revolutionary cosmeceutical first.
The following comments are from REAL customers and REAL medical professionals.
LifeCell is a topical skin care treatment that virtually makes your lines and wrinkles vanish before your very eyes in seconds.
In many cases this unique product can not only postpone, it can even eliminate the need for Cosmetic Injections or cosmetic surgery for many individuals whose only complaint is the appearance lines, wrinkles, age-spots, under-eye dark circles & puffiness and "feather" lips that adds years to their face.
The following comments are from REAL customers and REAL medical professionals.
06.23.2017
Olga Suarez, Age 87,
Former Ballet Dancer,
New York, NY
87-year-old world famous Ballerina, born after WWI says,
"The Price Tag For LifeCell Is A Lot Less Painful Than An Injection!"
Well, I don't have the dollars, but I did find a product that actually works. After so many disappointments, I've become a complete cynic when it comes to anti- wrinkle and anti-aging systems, but LifeCell really restored my faith.
It's a good, old-fashioned "get what you pay for" type of, all-in-one, anti-aging skin care system. That's just so convenient. Besides, the price tag for LifeCell is a lot less painful than an injection.
06.22.2017
Colleen Graham, Age 41,
Former Fashion Model,
Former Director of Ford Model Agency,
Hollywood, CA
Former director of Ford Models who Represented Heidi Klum, Claudia Schiffer And Eva Herzigova - discovers LifeCell and religiously recommends it to all her models...
"I'm 40, but I look and feel like I'm 28, again. Thanks to LifeCell, no one can tell me I can't look as young as I feel. LifeCell age-proofs my skin without surgery, Cosmetic Injections, or a Park Ave. dermatologist. Now I look my age, the one I feel. After I started applying LifeCell, men and women that cross my path repeatedly turn their heads to check me out - and it makes me look and feel like a million dollars!"
Testimonials found on this site are examples of what LifeCell has done for other customers. Your results may vary and every situation is different.
READ MORE DOCTORS OPINIONS
Janet Allenby D.O.
Dermatologist

Tom Graham M.D.

Sugie Lee
Pharmacist

06.20.2017
Karen - Philadelphia, PA
I came across LifeCell about a year ago. It's truly an amazing product, one that's really met all of my goals. I've been able to use just LifeCell to moisturize my skin. Besides its anti-aging light reflecting nanoprisms reflect away light from the shadows formed by the little fine wrinkles around my face. I've received lots of compliments from my clients. LifeCell is a really great product.
06.19.2017
Jennifer M. - Los Angeles, CA
I don't normally do this sort of thing, but I had to express my gratitude to you people for developing such a remarkable cosmeceutical. I've been using LifeCell now for 3 months and the change in the texture and feel of my skin is simply amazing. My crow's feet look practically gone and my skin looks years younger.
LifeCell Skin
Your feedback helps us grow! Let us know what you think about your LifeCell products. What do you love? What would you change? What are you looking forward to seeing? Comment below.
Deborah
I am a new client to Life Cell but I love, love, love it. My husband said my skin feels softer and some repair is already viable to the public. Enough said! Am anxious to try the cleanser!
June 23 at 10:05pm
Mark
I don't mind having a few wrinkles in my 40s, but when I hit my 50s I didn't want to just keep looking older and older, Thanks for slowing down the aging process LifeCell!
June 23 at 12:38pm
Alissa
I love LifeCell Skin! These products are so gentle yet very effective! Have noticed a positive change in my skin in just a few days of using your products!
June 22 at 01:30pm
Todd
I love this stuff, I found this in my wife's medicine cabinet and have been using it ever since
June 20 at 12:47pm
LifeCell Skin
Big night coming up? Look instantly younger with our LifeCell Anti-Aging Treatment. Get it now at LifeCellSkin.com :)
Rene
I have to admit that I was skeptical at first but was willing to try something new. Boy, was I glad I did! I have definitely noticed an improvement and am now on my second order. Keep up the good work LifeCell. P.S. I love getting the skincare tips from you!
June 21 at 02:43pm
Barb
Something I didn't expect was that LifeCell really controls my oilly skin. My makeup lasts a lot longer through the day and I am not blotting the oils from my 2 hours into my day as I was before.
June 20 at 04:29pm
Elizabeth
My first experience with LifeCell is very Positive. It visibly smoothes my complexion and give it a nice milky shade. It is not greasy and it is ideal under a moisturizer and makeup.
June 19 at 09:33pm
LifeCell Skin
#ThereIsADifferenceBetween an anti-aging "product" and "treatment". LifeCell is a treatment designed to fight the signs of aging! #skincare
Recent Posts by Others on LifeCell Skin
Jim
Lifecell is exactly what I've been looking for. it actually works and has significantly reduced the sagging skin along my jaw.
June 19 at 12:55pm
Beth
I MAKE my husband use LifeCell, or else I will leave him
June 19 at 03:02pm
Vicky
I was having some issues with my skin on my face and went to the dermatoligist and she said its ok to continue using my Life Cell. I was trying new and additional products that failed me and really disapointed me as well. I am only using life cell twice a day as recomended. I use it more often in the summer months as I cleanse my face more often. I was truely relieved when my skin professional said Life Cell is not just a good thing but a great thing! I will call when I get close to needing another tube of my Life Cell to keep me looking and feeling beautiful.
June 19 at 03:38pm
Bill
I am not the kind of guy to walk in to department stores and have girls half my age try and sell me some fad products. I did my research on lifecell, and decided to give the trial offer a shot. I am so far VERY pleased with the results, they def have helped soften the wrinkles around my eyes and forehead. LifeCell says the best benefits happen after a few months of use, but I am only on my 3rd week. So far so good, will keep trying it out!
June 20 at 02:39pm
Bridgette
I am a new consumer of Life Cell Skin and so far I like it a lot. I have noticed a different in 3 days. It's been approx. 1 week since I've been using this product and the results are fantastic. I definitely look younger, brigher and not so tired looking any longer. Age has hit me quick and hard this year and I've tried a few products and received 0 results until now. I highly recommend Life Cell Skin and look forward to more results.
June 19 at 05:43pm
Michele
I had been using LifeCell for 2 wks when I went to an appt with a new doctor. His assistant thought I was his age (55) and was shocked to find out that I'm 70.
June 17 at 03:45pm
Donna
OMG!! I have used my Life Cell for a month...only a month! I am 71 years old. The very first day people at my beauty salon asked if I had "work" done. This is truly a miracle product! I have been fortunate to travel world wide, tried all kinds of "good stuff". Nothing is better than my precious Life Cell!
June 18 at 05:19pm
Testimonials found on this site are examples of what LifeCell has done for other customers. Your results may vary and every situation is different.
Cosmetic Injections Alternative
Removes Wrinkles Instantly
Lifts & Firms
Brightens Dark Circles
Removes Puffiness
Plumps
24 Hour Hydration
Read What the media Is Saying About Fighting Aging
Time Magazine in "The War On Wrinkles" highlighted a Ubiquinone's derivative as a great weapon against fighting wrinkles.
NBC News in a breaking news show on skin-aging called a Ubiquinone derivative a "super skin- saving antioxidant."
Shape Magazine - "[Ubiquinone's derivative] doesn't just prevent free radicals from ravaging skin—it reverses past damage, too...The Ingredient has been shown to restore cell vitality."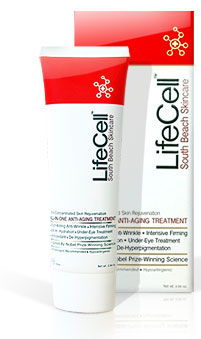 It [Acetyl Hexapeptide -3] aims to have properties similar to the cosmetic injections and can theoretically act on the same nerve-muscle connection that Cosmetic Injections works on.
The Times (England's #1 Newspaper) in an article "Forever Young" said, "dermatologists are hailing it [a Ubiquinone derivative] as the most potent skin care antioxidant available. Studies have shown it prevents cell damage linked to aging and wrinkles.
uncovers the most incredible breakthroughs
in anti-aging science, made available at the highest quality to keep your skin youthful and radiant.
DERMAXYL

A key ingredient that can assist in replicating similar results of retinol. DERMAXYL, a new ingredient based on peptide technology helps combat the signs of aging and appearance of wrinkles. Dermaxyl smoothes out the appearance of deep wrinkles and fine lines by producing results similar to retinoic acid and retinol without the irritation these products and alpha hydroxy (fruit/glycolic) acid-based formulations often cause.

MATRIXYL 3000

There are short-term anti-wrinkle products, and long-term ones. Matrixyl 300 uses a long-term approach to give your skin a more youthful, wrinkle-free appearance. Matrixyl 3000 is another key ingredient. It's a peptide that is specifically used to give the appearance of collagen synthesis and thus improves the look of your skin. In early 2013 University of Reading researchers found that Matrixyl makes your skin appear to be more youthful, supple and elastic.
Hyaluronic Acid

An essential key component of connective tissue. Nicknamed "Nature's Moisturizer" for its ability to moisturize skin, this ingredient will allow skin to maintain just the right amount of hydration without causing oiliness. Hyaluronic acid will also plump the skin to smooth and almost erase wrinkles.

DMAE (Deanol)

DMAE is the ONLY ingredient clinically proven to not only smooth out the appearance of wrinkles and fine lines, but also replenishes moisture in the skin to give it a firm look.Studies have concluded that DMAE can make the skin on the cheeks and neck appear tighter and smoother.

Retinol (Vitamin A)

Retinol is pure Vitamin A and the #1 dermatologist recommended wrinkle-fighting ingredient. It is used to renew and rejuvenate skin cells to give the skin a smoother and younger looking appearance.
Ubiquinone - Super Anti-Oxidant

Ubiquinone which most scientists claim clearly out-shines all other antioxidants available today. It boosts our body's ability to produce collagen, elastin and other important skin molecules, helping our skin look young, healthy and wrinkle-free.

Deanol – Muscle Toning and
Firmness Activator

Applying Deanol on skin helps give the skin an appearance of firmness and toned-up look. One of the more spectacular anti-aging effects of Deanol, is the natural appearance of a lift in the eyelids in just a few days of use. Daily use of Deanol can help you maintain a firm, and youthful look.

Ascorbyl Palmitate (Vitamin C)

Its primary function is to promote collagen synthesis. Heightened collagen levels will result in healthier, firmer, more youthful skin. Vitamin C in LifeCell will also keep skin protected from free radical danger, slowing the age-process even more.